Din webbläsare måste konfigureras för att kunna surfa på webbplatser på I2P och för att använda utproxier tillgängliga inom I2P. Nedan följer genomgångar för några av de mest populära webbläsarna.
Firefox-profil för Windows
Om du använder Windows är det rekommenderade sättet att komma åt I2P att använda Firefox-profilen.
Om du inte vill använda den profilen eller inte använder Windows måste du själv konfigurera din webbläsare. Läs nedan om hur du gör det.
Hur du ställer in din webbläsare
Firefox
Experimentell, tilläggsbaserad konfiguration
Ett nytt sätt att automatiskt konfigurera I2P-webbläsaren testas för närvarande. Den använder Firefox "behållarflikar" för att bygga privata surfverktyg för användning med I2P- och I2P-applikationer.
Det gör förkonfiguration av din webbläsare genom att aktivera några av integritetsinställningarna för webbläsare som ResistFingerprinting, och verkställer WebRTC-proxylydnad. Den innehåller också menyer, genvägar och övervakningsverktyg som förbättrar Firefox integration med I2P. Det är en biprodukt av I2P Browser-projektet.
Tillägget, I2P in Private Browsing, kan erhållas från Mozilla-tilläggsbutik.
Instruktioner för Firefox 57 och senare:
From the Menu button in the top right, select Preferences. Scroll down until you see the Network Proxy section, as shown in the screenshot below. Click on Settings

In the Connection Settings pop-up, select Manual proxy configuration. Set both the HTTP and SSL Proxy to address 127.0.0.1 with port 4444 as shown in the following screenshot.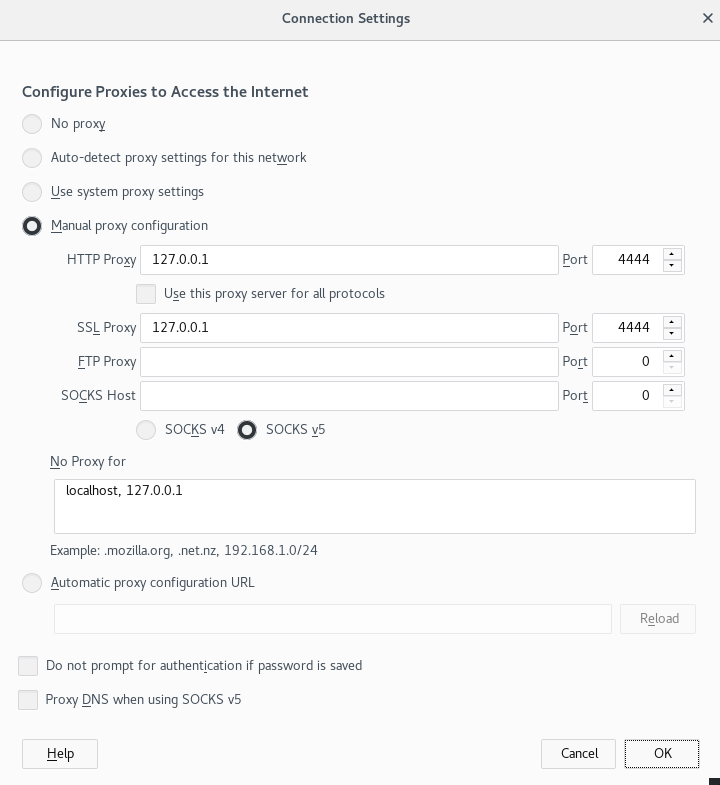 Finally, go to the address about:config and find the property media.peerConnection.ice.proxy_only. Ensure that this setting is True.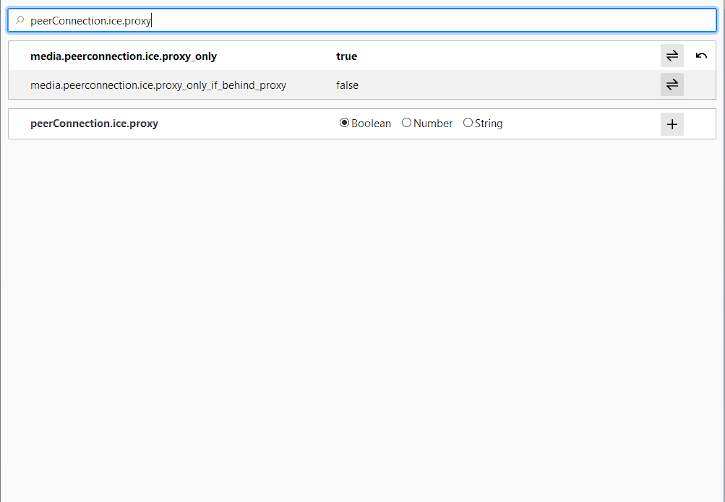 Chrome
Experimentell, tilläggsbaserad konfiguration
An experimental, partially-automated configuration process for Chrome is available. In order to configure it, create a new Profile especially for your I2P browsing, separate from the default profile. Then install this Extension in your newly-created profile. This profile is now configured to use I2P. Highly detailed instructions are available at the homepage.
Alla Chrome-versioner
Chromium-Based Browsers like Chrome have slightly different places for their proxy settings depending on variant and platform. These instructions may be slightly different in Brave or Iridium, for instance. From the Main menu, navigate to the Settings, and search for the menu item. Clicking it will open the right settings for your platform.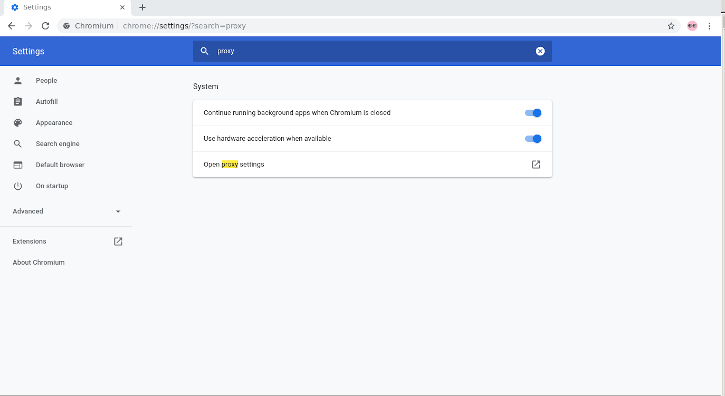 On Windows, this button will launch you into the shared proxy settings used by Internet Explorer, and you can configure it by following the Internet Explorer 8 guide.
IceRaven och andra Firefox för Android
Tilläggsbaserad konfiguration
Modern Firefoxes(The "Fenix" based Firefoxes) do not generally have an about:config page for you to configure proxy settings manually. It is further not possible to use most extensions in Fenix-based Firefoxes. It is possible to enable support about:config and enable more extensions in Firefox Nightly at the time of this writing, but it's a manual and difficult process. IceRaven is a fork of Firefox which enables a collection of extensions while Mozilla and the Mozilla Community work on adding support for extensions to Firefox for Android. It provides the easiest way of configuring a modern Firefox-based Browser for Android. It does not come from Mozilla and carries no guarantees from them. Installing the extension in IceRaven will proxy all your IceRaven browsing over I2P.
If you have not installed IceRaven yet, go to the next step. If you have been using IceRaven for a while, go to the main menu, select the History tab, and make sure that you have cleared information about your past browsing by tapping the "Delete History" button.
Open the IceRaven main menu, and scroll to the top until you see the "Add-Ons" submenu. Tap the "Add-Ons Manager" option in the "Add-Ons" submenu. Install the extension named I2P Proxy for Android and other Systems.
Din IceRaven-webbläsare är nu konfigurerad för att använda I2P.
This extension also works in pre-Fenix(Pre-Firefox-68) Firefox based web browsers, if installed from the following addons.mozilla.org URL. I2P Proxy for Android and Other Systems
Detta tillägg är identisk med Chromium-tillägget och är byggd från samma källa.
In order to enable extension support in Firefox Nightly, you should follow the steps provided by Mozilla on their Blog
Internet Explorer
In the start menu search for the the "Network and Internet Settings" to open the settings. The last entry in the menu is the Proxy Settings, click it to your proxy to connect to I2P.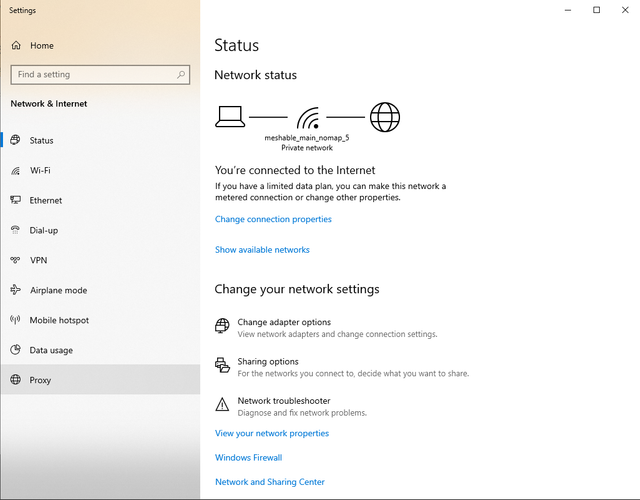 Fyll i kryssrutan vid "använd en proxy-server för ditt LAN" och vid "Kringå proxy-server för lokala adresser". Med ett klick på Advancerat-knappen öppnar du fönstret för att öppna portarna. Skriv in värdena som i bilden, IP 127.0.0.1, port 4444 för HTTP och port 4445 för HTTPS. Med klick på OK så sparar du inställningar och din webbläsare är inställd på att använda I2P-proxyn.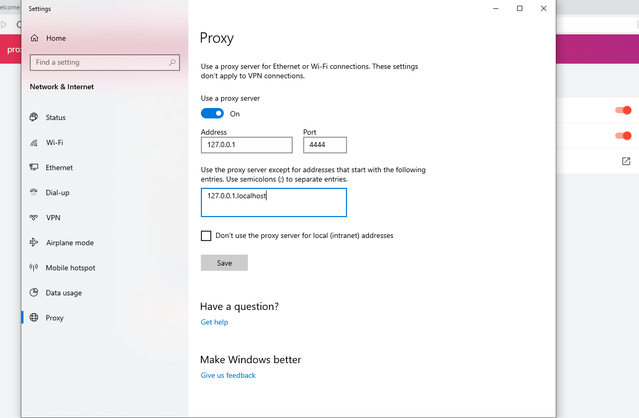 Användarvillkor För utproxyn
I2P is not designed for creating proxies to the Internet. Instead, it is meant to be used as an internal network.
The I2P project itself does not run any proxies to the Internet. The I2P software includes two outproxies: false.i2p and outproxy-tor.meeh.i2p. Even though domain names are different, it's the same outproxy you hit, multihomed/keyed for better performance. These are run by a volunteer.
http://privacysolutions.no
By default, I2P comes with two outproxies configured: false.i2p and outproxy-tor.meeh.i2p. Even the domain names are different, it's the same outproxy you hit. (multi-homed/keyed for better performance)
Filtering is active on these outproxies (for example, mibbit and torrent tracker access is blocked). I2P Sites that are accessible via .i2p addresses are also not allowed via the outproxies. As a convenience, the outproxy blocks ad servers.
Tor provides a browser to use as an outproxy to the Internet.